Hug a tree , or even better plant two or three.
by Peter Hanscomb
It's no secret that trees have a positive effect on our planet. Deforestation has had a huge effect on the environment , contributing to habitat loss that's had a massive impact on wildlife , erosion and increased air pollution. There is now a growing  movement to plant millions of trees , sometimes in really unexpected places to help turn the tide in the battle against global warming .
Over to the BBC for more on this story……
Planting trees is now the best way to tackle rising temperatures and climate change, according to a study this week from a group of scientists. Trees absorb carbon dioxide which means they can help to stop rising temperatures around the world.
They also keep soil moist and reduce the risk of flooding. So if this is really "the best climate change solution available today" what is being done around the world to plant more trees?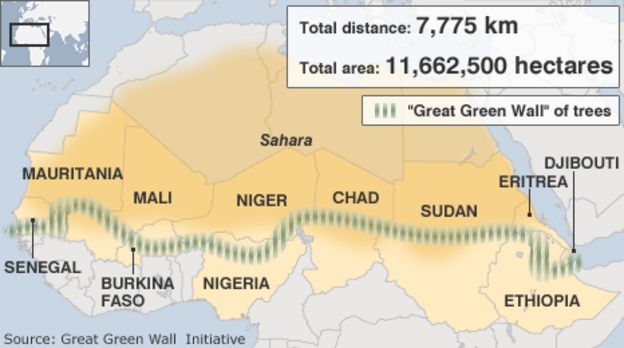 The Great Green Wall:
There is an 8,000 km wall of trees being built in Africa – making it the largest living structure on the planet once it's finished. The wall aims to spread across the width of Africa and through more than 20 countries including Senegal, Nigeria and Ethiopia.
A decade on from its launch, the wall is currently 15% complete, with 11.4 million trees planted in Senegal alone. In Burkina Faso, Mali and Niger, more than 2 million seeds have been planted from over 50 different species of trees.
The story continues at the BBC News website,
https://www.bbc.co.uk/news/newsbeat-48884165
©BBC News 2019